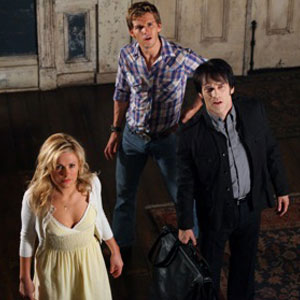 Kelly in New Madrid, Mo.: I can't wait for more True Blood! What can we expect from season three this summer?

Oh, where to begin? Let's start with the gorgeous Ryan Kwanten, who has some major storylines this season. First, Ryan says, "Jason finally falls in what he thinks is love. It's a pretty rare, unknown concept for him." Awww...Plus, Ryan tells us of Jason's future, "The fact that my character is dealing with the fact that he really has killed someone now is pretty crazy, and there's a whole host of new characters. There's the addition of werewolves coming in. We're using real wolves. It's crazy. I've yet to work with them. I'll work with them later on in the season, but I'm looking forward to it."
Alicia in La Cañada Flintridge, Calif.: I need True Blood scoop!
True Blood's Rutina Wesley tells us of Tara in season three, "She's going to have to grieve a lot to get over [Eggs]. And then it's going to be crazy madness." As for Tara's ex-lovah Sam, Nelsan Ellis teases, "Sam moves away from Sookie and Bon Temps, and he clings to the family that he's now starting to get to know. He finds his mother, father and brother." Come back home, Sam!
Azul in Orlando: Gimme some Eric Northman scoop! I miss my favorite Scandanavian True Blood vampire.
Did you see Nelsan's dish that he's going to be "Eric's henchman" this year? Nelsan also reassures us that we'll be getting a lot of Eric and Pam tag-team action this year as well: "Eric will definitely be in every episode, and Pam is definitely in the first four."
http://www.eonline.com/uberblog/b163887_Spoiler_Chat__Do_Chuck_and_Jenny_Hook_Up_on__lt_i_gt_Gossip_Girl_lt__i_gt__.html