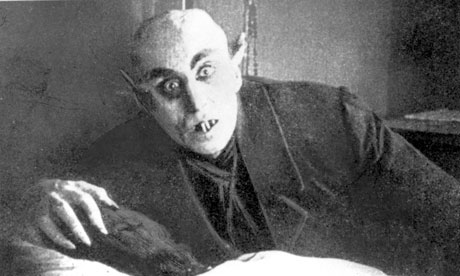 Max Schreck, Nosferatu (1922)
An unacknowledged adaptation of Bram Stoker's
Dracula
(which was banned in Britain after copyright complaints from the author's litigious widow), FW Murnau's silent gem still startles and amazes; the sight of the vampire's shadowy hand grasping at the heart of his victim ranks among cinema's most enduring images. So convincing was Max Schreck's unearthly performance that the modern movie
Shadow of the Vampire
would playfully suggest that he was the real deal; a genuine vampire hiding his identity in plain sight beneath the cover of movie magic.
Federico Luppi, Cronos (1993)
Debunking that most enduring vampire cliche, Guillermo del Toro's chilling masterpiece manages utterly to desexualise its antihero's bloodlust with extraordinary results. Having availed himself of the weirdly mechanical "Cronos" device, Federico Luppi's Jesus Gris staves off death with the occasional snifter of spilled claret. A scene in which he licks fresh blood off the polished white floor of a public lavatory is a taboo-breaking highlight that lingers in the mind. Luppi would later perform an affectionate cameo as King of the Underworld in Del Toro's
Pan's Labyrinth
.
Bela Lugosi, Dracula (1931)
Having made the role his own on Broadway, charismatic Hungarian Bela Lugosi became the defining screen count for the early sound era. A Spanish language version, shot by night on the same sets, is widely regarded to be a better-directed movie, but leading man Carlos Villarías was no substitute for the master, in any language. In the ensuing years, Lugosi would experience both fame and obscurity, famously ending his days working for trash maestro Ed Wood. In 1979, goth rockers Bauhaus' "Bela Lugosi's Dead"
reaffirmed his cult status. Undead, undead, undead indeed!
read on