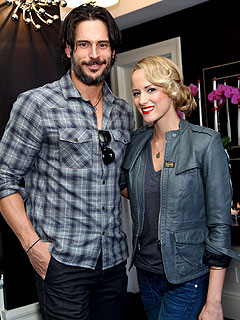 True Blood
's
hunky werewolf
Joe Manganiello sometimes brings his work home with him. And that's just fine by his girlfriend, actress and model Audra Marie.
"I sniff you a lot. And I growl a lot when you ask me to do things, like clean up," Manganiello joked to Marie while talking with PEOPLE at Wednesday's New York premiere of HBO's
Boardwalk Empire
.
Asked if it's a turn-on that her boyfriend plays a werewolf, Marie replied, "Of course!" She added that Manganiello is perfectly cast, "if you saw how he eats at home. He likes to eat meat without a utensil."
read on