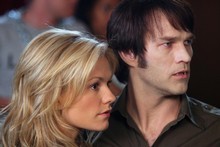 Stephen Jewell talks to American author Charlaine Harris about why readers must not confuse her True Blood novels with the television series.
For a series rooted in the small Louisiana town of Bon Temps, it's ironic that
True Blood
's core cast hails from New Zealand, Australia and England. But no one is more impressed with the accents of Wellingtonian Anna Paquin, Ryan Kwanten from Sydney, and Essex-raised Stephen Moyer, who play Sookie Stackhouse, her brother Jason and vampire lover Bill Compton, than Charlaine Harris, the American author of the novels on which the popular series is based.
"I was born and bred in the south, so it took me a while to acclimatise myself but they've all done a trememendous job," laughs Harris, who lives in Arkansas. "I just can't imagine that part of acting. I couldn't do it myself. It's crazy, isn't it? But I get to see them from time to time and they're all such fun to hang around with."
read on