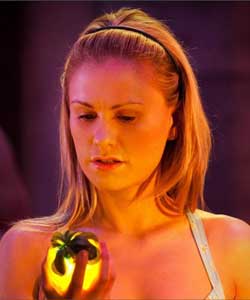 OK-- I like this, I have been wondering about that bit of dialogue which on the surface was a just a funny tete a tete between Sookie and Eric. Anybody else been thinking about this ?
Welcome back to our continued recap and analysis of sex and gender issues in HBO's
True Blood
. If you haven't already, make sure to check out last week's article, where we discussed the questionable transformation of series regular Tara into a
cagefighting lesbian
.
Throughout the previous three seasons of
True Blood
, Anna Paquin's Sookie Stackhouse has been a character embroiled in contradictions. She's sweet, innocent girl-next-door that everyone loves, but she's also been sexually and romantically involved with a vampire – still a serious taboo in the world of the show. Similarly, at one time or another, pretty much every male character on
True Blood
has tried to protect Sookie, but between her ability to read minds and her crazy fairy-magic light attack, she's proven herself to be one of the most formidable forces on the show
read on