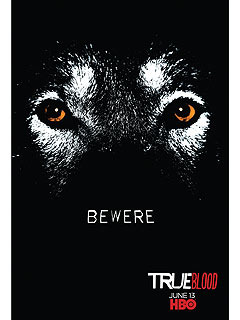 In the latest in a series of promotional posters for the hit vampire drama True Blood, HBO is hinting at things — namely werewolves — to come.
Joe Manganiello has signed on to play werewolf Alcide Herveaux, a season 3 love interest for Anna Paquin's Sookie Stackhouse.
In the books by Charlaine Harris that the show is based on, Alcide helps Sookie search for her beloved vampire beau Bill Compton (played by Stephen Moyer), who went missing at the end of season 2.
http://tvwatch.people.com/2010/05/12/true-blood-werewolves-poster-alcide-herveaux/