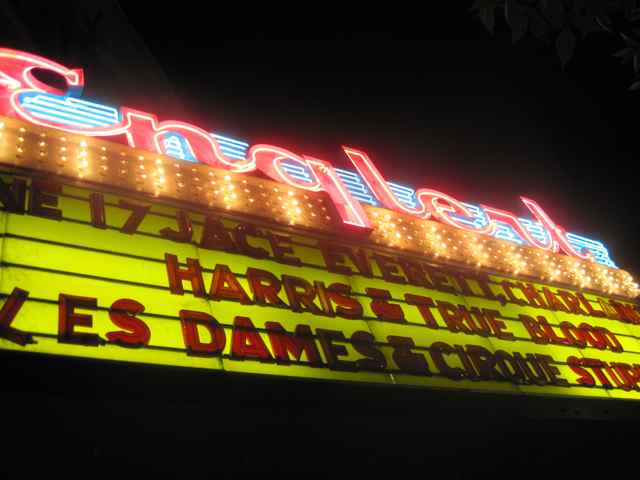 Before Charlaine Harris, author of the Sookie Stackhouse novels that
True Blood
is based on, began signing books, she answered some frequently asked questions for the 100 assembled fans at the
Englert Theatre
in Iowa City, Iowa on June 17th.
"Yes, I'm happy with Alan Ball's production of my novels," Harris said. "Also, if you ask me where I get my inspiration, I will spit on you," she joked.
Bringing Harris to Iowa was the brainchild of Rob Cline, director of the Metro Library Network's Out Loud! Author Series. "We should pick one of those vampire authors," he told the Out Loud! planning committee. Four hours and a few phone calls later, Harris had agreed to the appearance -- a co-headlining event with Jace Everett, singer of the
True Blood
theme song, "Bad Things."
It was her first visit to Iowa and the first time that she had seen Jace Everett perform live. The first time the two Southerners met was in Los Angeles. "We had a few laughs about all the pretty people in L.A.," Everett, a native Texan, told me after his 75-minute concert. We ain't that purdy 'round these parts, I said. He agreed, but added, "y'all are more my type of people."
*
I sat down with Harris before the event to chat. Not on the agenda: asking her where she gets her inspiration.
------
read on
Jace in Iowa