Team Awful loves True Blood...you all know this. But what we do keep secret from you is who we've each pegged as our No. 1 hunk on HBO's hit show.
Well, Ted's giving his up now: It's all about Sam Trammell, baby. Shocked it's not Alexander Skarsgård, right?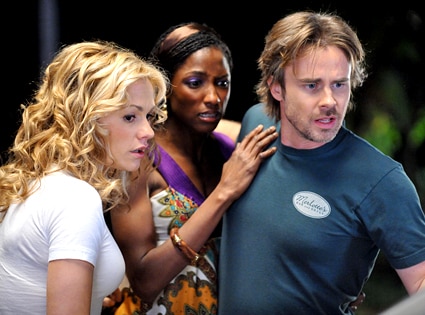 We ran into Sam at last night's BING party at Boa in West Hollywood, and the guy couldn't have been more adorable when we thanked him for giving Skars a run for his money on being naked in almost every scene of season three (which, is something Alex has thanked Sam for too, FYI).
"I'm always sort of stuck in the weirdest places without my clothes," the shapeshifter told Kristin Dos Santos at the True Blood premiere two weeks ago.
As for whether he's used to it now? Sam, who was with his gorge blond girlfriend (sorry, ladies and gents) last night, said the shirtless stuff was recently brought to his attention: "I didn't even really realize I was shirtless in almost every scene until I started reading about it everywhere," Sam grinned, dimpled and all.