Ha this looks like fun ! Chicago people !!!

WHAT: "True Twilight: A Glee Club Musical"
WHEN: 9:30 p.m. Sept. 8, 15 and 22
WHERE: Gorilla Tango Theatre, 1919 N. Milwaukee Ave., Chicago
HOW MUCH: $12
FYI: (773) 598–4549, GORILLATANGO.COM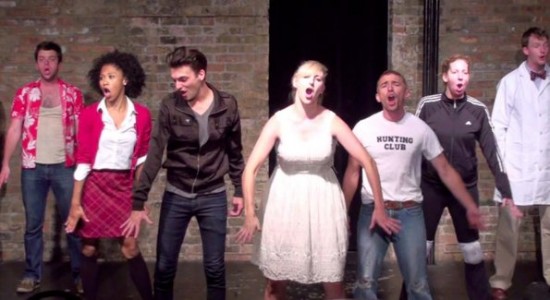 Theater fans who may not be familiar with the likes of Sookie Stackhouse of "True Blood," Rachel Berry of "Glee" and Bella Swan of "Twilight" fame will still find laughs in Gorilla Tango Theatre's original parody "True Twilight.
"We're hoping that we didn't include such specificities that the average person watching it won't be able to get into the characters," said "True Twilight" author Amy Whittenberger. "Even if you've never watched any of these, you'll still find the physical comedy hilarious and want to follow the stories."
Running Wednesdays through Sept. 22 in Chicago, "Twilight" takes jabs at "Glee," which took home a pair of Emmys on Sunday, "True Blood," the acclaimed HBO vampire drama, the mega–selling tween/teen "Twilight" books and films and the trio of hit Disney "High School Musical" film hits.
read on