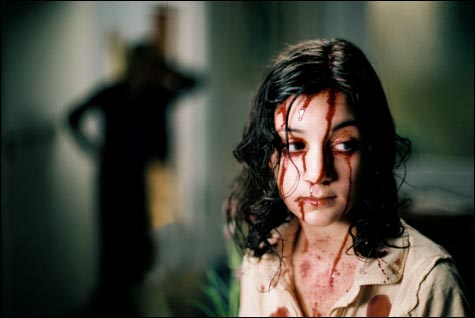 FIGHTING LONELINESS: Lina Leandersson in Let the Right One In.
2008 might have been the year of the nerd (according to us at the Phoenix), the rat (Chinese astrology), and the potato (United Nations), but there's no question that it was also the year of the undead. In these trying times, we've shunned wizards for vampires, in effect exchanging hopeful, magical fantasy for something much darker, much bleaker — and much more romantic. Three pop-culture elements of this phenomenon — the blockbuster popcorn movie Twilight, HBO's True Blood, and the indie flick Let the Right One In — are evidence of our embrace of the undead. Watching all three back-to-back leads to some interesting comparisons, as well as insights into the vampiric world.
ATTRACTIVENESS OF LEADING ACTORS I have to give this one to True Blood. I've thought Anna Paquin was strangely hot, with her toothy smile and too-big eyes, since she Rogued it up in X-Men. And Stephen Moyer, who plays "Vampire Bill," is just about perfect — like a cross between Viggo in LOTR and Hugh Jackman (god, I sound like such a fangirl), only slightly more effeminate. That's the thing about vampire movies: the aesthetic leans toward androgyny. Consider the boyish attractiveness of Let the Right One In's main vampiress, Lina Leandersson, which is both striking and disturbing, given her age (12). And Robert Pattinson, the much-worshipped actor who portrays vampiric Edward Cullen in Twilight, is more beautiful than brutish — delicate, pale, and glittering in the sun. (Kristen Stewart, who plays Bella, is somewhat less arresting, but certainly not your typical blond ingûnue.)
SOUNDTRACKTwilight's will appeal to tweens and teens (representative artist: Paramore); Let the Right One In's will draw in hipsters (the eerie soundtrack was composed by Swede Johan Söderqvist); True Blood's will attract country/rockabilly types (the first episode features Lucinda Williams, Josh Ritter, and Little Big Town). More music-related trivia: the title of Let the Right One In is taken from a Morrissey song!
SPECIAL EFFECTS/GORE FACTOR There's a fantastic scene in Let the Right One In that involves severed body parts and a swimming pool. Another shows crazed felines attacking a recently bitten vampire. Both scenes are so obviously fake (the cats look like something from a sinister version of Mister Rogers' Neighborhood), yet so totally enjoyable. There's other bloody deliciousness (including a particularly grotesque scene in which blood squeezes from all of Eli's facial orifices) sprinkled throughout. The special bits in Twilight and True Blood are slightly slicker, but also slightly more predictable. What's amazing about all three of these artistic endeavors — and this speaks to the extent of their pop-culture penetration — is that the special-effects type stuff for which vampires are known (um, sucking people's blood, as well as possessing uncanny strength, and being vulnerable to sunlight) is presented as secondary to their emotions. Never mind that they can fly; vampires have feelings. (Jason Segel sang movingly about vampire feelings in Forgetting Sarah Marshall's vampire-puppet-musical "Dracula's Lament." I'm serious.)
ROMANCE/SEX Much has been written about what the successes of the Twilight books and movie say about modern (particularly female) adolescent sexuality; Caitlin Flanagan explores that theme in this month's issue of The Atlantic.
"The Twilight series is not based on a true story, of course, but within it is the true story, the original one," she writes. "Twilight centers on a boy who loves a girl so much that he refuses to defile her, and on a girl who loves him so dearly that she is desperate for him to do just that, even if the wages of the act are expulsion from her family and from everything she has ever known. We haven't seen that tale in a girls' book in a very long time. And it's selling through the roof."
Indeed, while Twilight (the movie) and Let the Right One In are on the surface very chaste, there's a terrific current of desire and want that runs through their veins. Their plots depend on newly discovered, unfulfilled wants.
True Blood, on the other hand, tackles these cravings head-on; as if to symbolize the lack of control that comes along with human-vampire interactions, show creator Alan Ball gleefully inserts wanton lust throughout his episodes.
"Certainly, sexuality, I think, is a real window into somebody's psyche, so I'm not as freaked out by characters being depicted in sexual situations [as] maybe some other people are," Ball said in a recent interview. As opposed to Ball's other famous HBO series, Six Feet Under (which he says was "all about repression"), True Blood "seems to me to be something that's about abandon."
But even more important than sex, in vampire movies, is love. The main couples here — Edward and Bella, Oskar and Eli, and Sookie and Bill — are shockingly, intensely drawn to each other. Perhaps these forbidden, confusing loves are even scarier than the whole blood-sucking thing. After all, love is the emotion of the heart, and the heart pumps blood, and vampires can't live without blood. Like us, vampires just wish everyone would try a little tenderness.