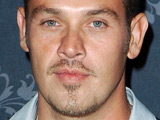 Kevin Alejandro has revealed that his character Jesus will feature more heavily in upcoming episodes of True Blood.

The actor, who also stars in cop show Southland, confirmed to Entertainment Weekly that he will reappear in the fifth episode of the current season.

He explained: "I come back in the fifth episode, then you see me pretty regularly from there to the finale."

Alejandro also revealed that his character's relationship with Lafayette Reynolds (played by Nelsan Ellis) will progress.

"I promise it gets racy," he teased.

The third season of True Blood is currently airing on HBO.